EASY DOES IT # 15 – GRAVLAX
There
  are a few compelling reasons to make your own gravelax instead of buying it at a store or online:
- Price -
Fresh salmon $ 15.00 per pound versus store bought gravlax at $ 40.00
>
 - Ease of preparation
 – actual preptime about 10 minutes, curing between 3 and 5 day's
>
 - Total control of texture and taste of finished product
>
 - The joy of adding another stunner to your cooking repertoire
>
My  s
tandard
  dry-marinade recipe is as follows : 3/5th  of kosher salt, 2/5th of sugar, fresh chopped dill including stems, white pepper, lemon peel, crushed mustard seeds and dark rum. In the 
variation
  below, I have changed the dry-marinade recipe a bit as follows: 3/5th  of kosher salt, 2/5th of sugar, freeze dried dill leaves, raw garlic paste,  cayenne pepper, dijon mustard.
>
Mix the marinade ingredients, place half of it in a chemical reaction-free container. Top with salmon filet. add remaining dry marinade to top of salmon. Cover airtight, place in refrigerator. Flip salmon every twelve hours. After twenty four hours, dry-marinade will have transformed into a thick brine. The salmon will be cured after two to three day's, depending on the thickness and salt to sugar ratio in your marinade. I usually keep my salmon in the brine another one to two days, again depending on the marinade and thickness of the filet. The extra time will give me a slightly dryer and more opaque product which I prefer. This one took four day's to be exactly the way I like it. To serve, remove salmon and wash under running water to clean off excess brine. Slice into fine slices, accompany with dill/mustard sauce and rustic bread of your choice. (To think, first time I prepared  
Gravlax
 was in the summer of 1973 at the  
HotelKattegat,  Torekov,  Sweden.  
Good times 
:-)
Bon Appetit !   Life is Good !
>
Note: Start out the first time by following my standard recipe, the next few times experiment with the marinade and curing time until you find your own sweet spot. Variations can be, but are not limited to, different salt/sugar ratios, different herbs, different seasonings, different liquors, different curing length's. Enjoy your gravlax journey !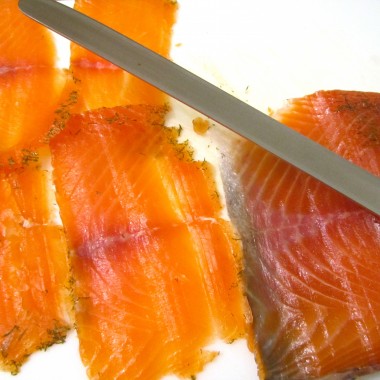 Servings:
Prep Time:
Total Time:

Related Categories: Uncategorized,
Ingredients:
See all pic's and recipe at : www.ChefsOpinion.org