Chicken Noodle Soup With Broccoli Rabe & Tomatoes
My very own preference for chicken to use in a soup are the wings, which makes for a bit of messy eating at the dinner table. So, if this is an issue for you, you might want to replace the wings with boneless diced chicken leg. On the other hand, chicken noodle soup was never meant to be an elegant dish, so what the heck, use whatever makes you happy!
Preparation:
Simmer wings with water, sliced ginger, sliced garlic, kosher salt and cayenne pepper until wings are cooked through, about 30 minutes. Remove wings, set aside.
Meanwhile, cook pasta, strain, toss with a bit of sesame oil.
Strain soup, return to simmer, add chilies, broccoli rabe, tomatoes, scallions, hot sauce, soy sauce and wings, simmer another minute. Check / adjust seasoning.
To serve, add pasta to serving dish, top with soup, wings and veggies, sprinkle with more scallion.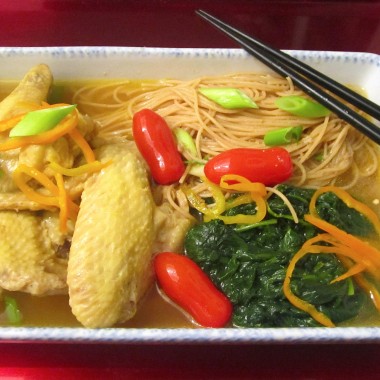 Servings:
Prep Time:
Total Time:

Related Categories: Soups,
Ingredients:
To see all Pictures, Recipes and Links, go to www.ChefsOpinion.org