Curried lentil salad with tandory style chicken
Let's make a salad that is both full of flavor and easy to prepare. Curried lentils are of course one of my favorite lentil recipes, served either hot or cold (vinaigrette added), by them self as salad or as a sexy side dish (again, either hot or as salad). And tandoori chicken?- well, anytime, please. While I don't have a tandoori oven in my kitchen (neither do you, I guess), cooking the chicken without fat in a VERY hot cast iron pan will give satisfying, similar results.
Procedure:
marinate skinless chicken breasts overnight in a paste of ghee, garam masala, cumin, allspice, lemon juice, yogurt, paprika, cinnamon, grated ginger, garlic paste, black pepper and kosher salt.
cook lentils by slowly simmering in salted water until soft, but not falling apart.
mix greek yogurt, mayo, mustard, curry powder, turmeric powder, rice vinegar, kosher salt and cayenne pepper
add lentils, chopped cilantro, diced radish, diced cucumbers and sliced chilies, mix well, check / adjust seasoning
add chicken to VERY HOT cast Iron pan, cook for about 3 minutes on one side...........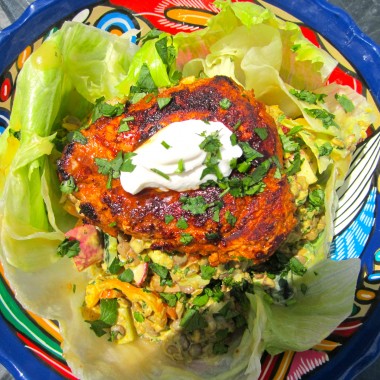 Servings:
Prep Time:
Total Time:

Related Categories: Salads,
Ingredients:
To see all Pictures, Recipes and Links, go to www.ChefsOpinion.org