Stuffed Eggnog French Toast
Sweet French toast stuffed with bananas and perfect on a cold winter's weekend.
Directions:
1. In a large bowl, combine eggnog, eggs, and butter until well blended. Pour the mixture into a shallow dish.
2. Preheat an electric skillet to 300 degrees F (150 degrees C). Lightly grease the skillet.
3. Dip one slice of bread at a time into the eggnog mixture, being sure to coat each side of the bread thoroughly.
4. Place the prepared bread slices into the preheated skillet, and cook, turning once, until golden brown on each side. Remove from the oven and let stand for about 10 minutes before serving.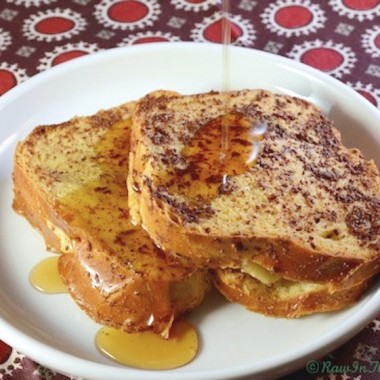 Servings:
6
Prep Time:
15 Minutes
Total Time:
20 Minutes
Related Categories: Recipes,
Ingredients:
-2 eggs, beaten slightly
-1 teaspoon pumpkin pie spice
-1/2 cups eggnog
-1/2 tablespoons ground cinnamon
-12 slices French bread