Special Pancit Canton
The dish we love to prepare in every possible occasion.
Directions:
1. In a pan, heat 1 tablespoon vegetable oil. Sauté garlic and Onions until golden brown.
2. Add the pork strips and cook over low heat until done.
3. Add the sauce, chorizo and oyster sauce.  Cook for few minutes
4. Add chicken gizzard and stir-fry until cooked.
5. Add the shrimp, parsley and soy sauce.
6. Add pancit noodles and stir occasionally.
7. Add the vegetables and toss with the noodles.
8. Add salt and pepper to taste.
9. Drizzle a little sesame oil and calamansi juice on top before serving. Serve hot.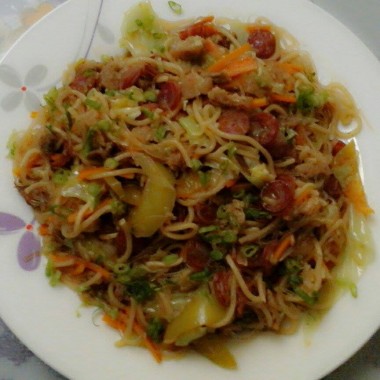 Servings:
2-3
Prep Time:
30 mins
Total Time:
45 mins
Related Categories: Recipes,
Ingredients:
1 lb flour sticks (or pancit canton, about 500 grams) 2 tbsp oyster sauce 1 tbsp garlic, minced 1 tsp ground black pepper 4 cups chicken stock 1 tbsp salt 4 tbsp soy sauce ½ head cabbage, chopped 2 cups carrots, julienned 2 cups pork, thinly sliced 1 cup sliced chorizo 8 pieces medium sized shrimps (optional) 1 cup parsley, chopped finely 1 cup onion, sliced 1 ½ cups snow pea 2 tbsp cooking oil