Bicol Express
heat pan, put-in oil then saute the garlic and onion.

add the pork, stir fry for 5-7 minutes or until brown.
add the shrimp paste, black ground pepper, msg, and stir
add the chili finger, red hot pepper and beans followed by coconut milk.
mix all the ingredients well and simmer for 15-20 minutes or until sauce is thicken (under medium heat).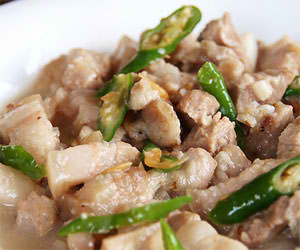 Servings:
Prep Time:
Total Time:

Related Categories: Hot & Spicy,
Ingredients:
2 cups coconut milk or 1 can 1/2 klg pork, cut into cubes 2 tbsp shrimp paste 4 cloves garlic, minced 6 pcs chili finger 1 medium onion, cube 5 red chili pepper 2 tbsp cooking oil 1/4 black ground pepper 1/8 tsp msg 10 pcs beans