Korean BBQ Tilapia
I love trying new ways to serve up fish other than with rice and broccoli.  The Korean BBQ sauce and the addition of eggplant and bok choy made this dish extra special.
Instructions
Step 1.
Heat 1 tablespoon olive oil in heavy small saucepan over medium heat. Add garlic and chile; sauté until fragrant and light golden, about 3 minutes.
Step 2.
Add soy sauce, brown sugar, vinegar, and 3 tablespoons water and bring to boil, stirring until sugar dissolves. Reduce heat to medium and simmer until mixture is reduced to 3/4 cup, about 5 minutes (sauce will be thin)
Step 3.
Remove barbecue sauce from heat; whisk in sesame oil. Transfer 1/4 cup barbecue sauce to small bowl and reserve for serving
Step 4.
Prepare barbecue (medium heat). Combine bok choy, mushrooms and eggplant halves in large bowl. Drizzle 2 tablespoons olive oil over and toss to coat.
Step 5.
Sprinkle with salt and pepper. Brush fish with remaining 1 tablespoon olive oil; sprinkle with salt and pepper. Grill vegetables and fish until vegetables are tender and slightly charred and fish is just opaque in center, turning occasionally and brushing with sauce, about 10 minutes total for vegetables and 7 minutes total for fish.
Step 6.
Transfer vegetables and fish to plates; sprinkle with green onions. Drizzle with reserved sauce and serve.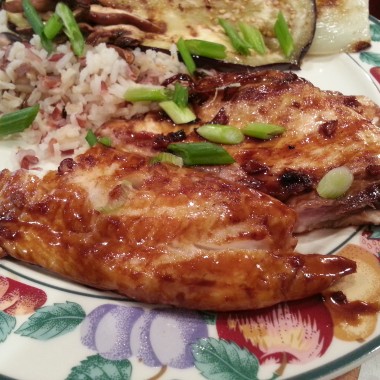 Servings: 4
Prep Time:
Total Time:

Related Categories: Fish Recipes,
Ingredients:
4 tablespoons olive oil or vegetable oil, divided 2 garlic cloves, minced 1 1/2 teaspoons minced serrano chile with seeds 1/3 cup soy sauce 1/4 cup (packed) dark brown sugar 3 tablespoons unseasoned rice vinegar 3 tablespoons water 1 tablespoon Asian sesame oil 8 baby bok choy, halved lengthwise 4 medium-size Japanese eggplants, trimmed, halved lengthwise 1 cup shiitake mushrooms 4 6- to 7-ounce tilapia fillets (each about 1 inch thick) 2 green onions, thinly sliced