Easy Recipe: Salsbury Steak
Grab the Mouth Watering Recipe: Salsbury Steak 
here!
This is an old family favorite that my mom used to make us as children. Of course, you can add fresh instead of can anything to make it more healthy. I double this recipe for my family of 8. Served with a green or fruit salad.
Instructions:-
Combine bread crumbs, egg, ketchup, and salt in bowl until blended
Add ground beef to bowl
Shape meat into 1 inch thick patties
In large skillet, over medium-low heat, heat oil, brown the patties on each side
Meanwhile, mix soup and wine
Drain excessive fat from pan
Add soup mixture. potatoes, and green beans in the skillet with meat.
Cover and shimmer for 10 minutes while stirring veggies.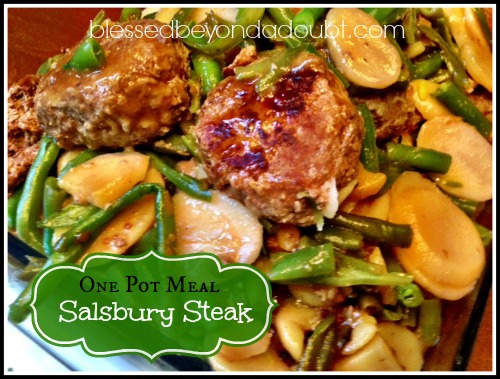 Servings:
4
Prep Time:
10 minutes
Total Time:
30 minutes
Related Categories: Family Recipes,
Ingredients:
ground beef