Banana and Strawberry Smoothie
Guilt Free Sweet Pleasure  Banana / Strawberry Smoothie:
One of my favorite fruits are bananas. So, me being me, every time I buy a bunch, without fail I buy too many. In the past, I discarded them once they had too many brown spots – until I started to become a fan of smoothies. At first, I made my smoothies like I've seen them being made in bars around the world: Some fruit, lots of ice, milk, lots of sugar. Wonderful concoction if you are young, healthy, slim and have a smoothie once in a while. However, if you drink a lot of the stuff you will soon realize that after standing at room temperature for a short time, all that ice will melt and you have a very watered-down mess in your glass. Also, all that sugar and full-fat milk is fattening and can be harmful if you are a bit overweight and a diabetic. In order to remedy all that , here is my recipe for a guilt free, delicious sweet treat / great drink, which can be had any time of day, for breakfast, lunch or dinner or as a sweet treat / dessert in between or after meals:
1.) Freeze any fruit that is on the verge of becoming overripe in airtight ziplock bags. This will save you money and it eliminates the need to add ice to your smoothie, keeping it from watering down.
2.) Instead of full-fat milk, use fat-free milk.
3.) Instead of sugar or artificial sweetener, use natural honey or fruit nectar (frozen into cubes) as sweetener.
4.) For extra body, add Greek yogurt.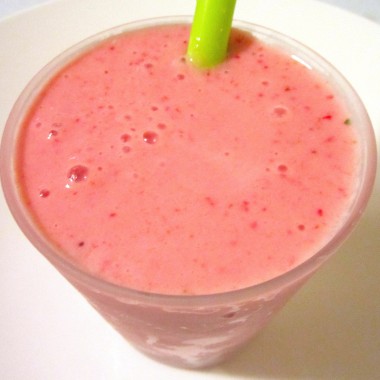 Servings:
5
Prep Time:
5
Total Time:
10 Min
Related Categories: Drinks,
Ingredients:
250g strawberries, hulled 1 medium banana, peeled and roughly chopped 300ml 1% lowfat milk 150ml natural yoghurt 15ml spoon clear honey