Vanilla Pudding Chock Full With Berries
I am a fairly good cook but a lousy patissier, so my sugar-free desserts are a bit lacking in finesse and variety.
Having said that, I DO have a few great options for sugar-free or at least refined-sugar free desserts. The following is one of my favorites because of its creaminess and richness.
Preparation:
Bring milk and honey to a boil
add vanilla extract
whisk egg yolks until airy
make a cornstarch slurry
add slurry and butter to milk, simmer one minute
add some pudding to the egg yolks to temper
return egg mixture to pudding, mix well, simmer another minute
add fresh blueberries, blackberries and raspberries, fold in carefully
pour into bowl or individual cups, cover with plastic film to prevent skin, chill overnight
to serve, add pudding to serving plate
top with sugar-free whipped heavy cream, sugar-free fruit purre and top with fresh strawberry.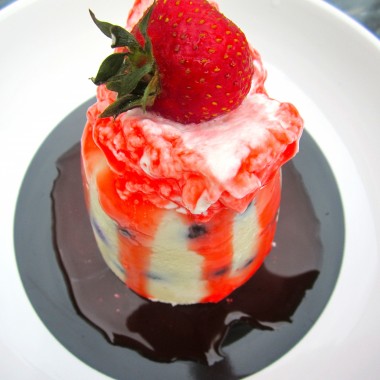 Servings:
Prep Time:
Total Time:

Related Categories: Dessert,
Ingredients:
To see all Pictures, Recipes and Links, go to www.ChefsOpinion.org