Guilt Free Banana Icecream
Since I have started to live a healthier life style, my one problem is how to satisfy my sweet tooth without feeling guilty. The solution to my dilemma are sweets without refined or artificial sugar/sweetener, which are increasingly hard to find. So I took to thinking about new recipes which will make me happy with their natural sweetness and are not too offensive to my diabetic restrictions. The following one is definitely a keeper.
An added bonus to this recipe is that you don't need an ice cream machine for its preparation. I used to have one, but I threw it away after a while because the churning cylinder took up too much space in the freezer department of my fridge.
This Ice cream is ready for consumption after about 4.5 hours in the freezer. If you freeze it longer or overnight, you might want to put it from the freezer into the cooler for 15 -20 minutes to facilitate easier spooning (That's spooning of the ice cream kind, not the other one – although…
If I would still drink alcohol, I would have added a shot of brandy or dark rum to this baby.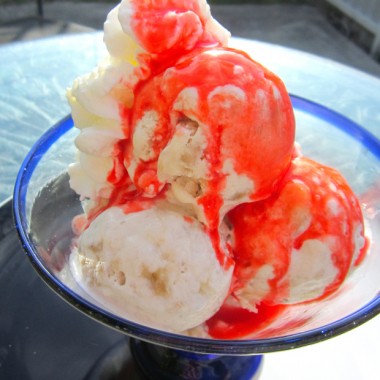 Servings:
Prep Time:
Total Time:

Related Categories: Dessert,
Ingredients:
To see all Pictures, Recipes and Links, go to www.ChefsOpinion.org