Banana cake moist and super soft with Walnuts and Almonds
Delicious moist and super soft banana bread with walnuts and almonds with a whiff of cardamom and hint of saffron
recipe
.
Preparation:-
Preheat the oven / 350 deg
Grease and flour the pans of your choice. the original recipe called for two 8 inch pans. I used one 8 inch round and one 9 inch square pan. Sift the flour,baking soda and salt together and set aside.
Cream the butter,sugar and eggs.
Add in the pureed bananas,,cardamom powder ,cinnamon powder and saffron strands.
Add in the flour and whip up the gooey mixture.
Fold in the walnuts and almonds
Let's cook them: Stick those pans in the preheated oven and bake them at 350 deg for 30 min.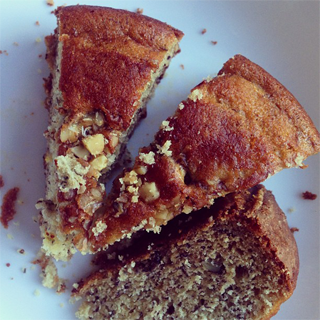 Servings:
4
Prep Time:
30-40 Min
Total Time:
60 Min
Related Categories: Dessert,
Ingredients:
- 2.5 cups of self rising flour
- 1/2 cup of unsalted butter
- 2 large eggs
- 3/4 cup of milk
- 1 and 3/4 cup of sugar
- About 5 medium ripe banana
- 1 tablespoon baking soda
- 1 pinch salt
- A generous pinch of saffron
- A generous pinch of Cardamom powder
- Cardamom
- 1/2 cup of chopped walnuts
- 1/4 cup of skinned sliced almonds
- A pinch of cinnamon powder