Vegan, gluten-free chocolate cake
Our vegan, gluten free interpretation of the French 
moelleux-au-chocolat
Preheat the oven to 150 °C.
On low heat, melt the cacao butter until liquid.
Melt the chocolate into the butter.
Add the agave syrup, mix in vanilla (to taste, we used about ½ tsp).
Mix in the pear preserve and mix until smooth.
While the cacao butter is melting, take another bowl and mix together all the dry ingredients to obtain a chocolate-colored mixture.
Add the liquid mixture to the flour, and whisk briskly (the mixture will start setting if you let it cool down): to keep it smooth you need to be fast!
Add the coconut cream, spoon by spoon, into the mixture, to reach a mousse-like consistency; it should basically "fold" over itself when poured.
Scoop it into a cupcake pan (it should make 4 to 6 mini-cakes).
Bake for 25-30 minutes. As you remove them from the oven, the consistency should still be soft (they will become firmer as they cool down).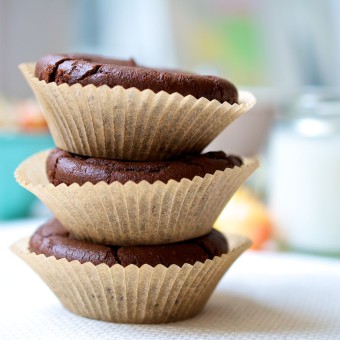 Servings:
4-6
Prep Time:
10
Total Time:
30
Related Categories: Chocolate, Dessert, Vegetarian,
Ingredients:
Liquid ingredients
Raw cacao butter, 40g
Dark chocolate 70%, vegan, 60g
Agave or maple syrup, 30g
Pear preserve, 30g
Vanilla extract, 1 tsp
Organic coconut cream (one 160ml can)
Dry ingredients
Rice flour, 20g
Coconut flour, 25g
Organic brown cane sugar, 35g
Baking powder, 1 tsp
100% organic cacao powder, 25g