Blackberry Baby Back Ribs with Blackberry Jalapeno Sauce
Blackberries and jalapeños
make a sweet and spicy sauce for these tender
baby back ribs
.
Preheat you oven to 250º
Spread the thyme sprigs over the ribs, season generously with salt and pepper, cover with foil, add about half a cup of water and let them bake for 2-1/2 – 3 hours. The foil is important because it will trap the steam created from water and ribs themselves, cooking them while preventing the ribs from drying out.
Covered Ribs
With roughly 20 minutes left with baking, begin the sauce. Cook the bacon over medium heat until it renders most of the fat out and then add the onions and jalapeños. Cook until the onions begin to become translucent and then add the garlic, Dijon, brown sugar and blackberries. Use your wooden spoon to squash some of the blackberries and cook until the mixture thickens slightly. Once the ribs are done, pour the drippings into the sauce and puree the mixture. I used a hand blender because I wanted an easy clean up, however I sent little spots of purple sauce all over the place and ended up cleaning the walls afterwards. I would suggest a regular blender or processor for pureeing the sauce.
Pouring Dripping
Puréeing Sauce
Heat your grill to high. Brush the sauce over one side of the ribs and when the grill is ready, sear the ribs on the sauce side. Brush the other side and after about a minute flip the ribs. Do this 2-3 times per side until the sauce is thick and seared on.
Reserve any left over sauce for dipping.
View Original Recipe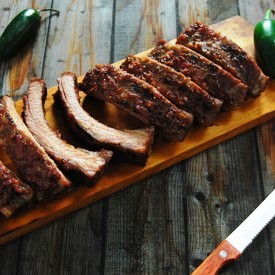 Servings:
Prep Time:
Total Time:

Related Categories: BBQ & Grill,
Ingredients:
1 Slab Baby Back Ribs
10-12 Sprigs of Thyme
Salt & Pepper
Sauce:
5 Strips Bacon diced
1 Yellow Onion diced
3 Cloves Garlic minced
2 Jalapeño sliced
2 Tbs Dijon
1/4 Cup Brown Sugar
6oz Blackberries
Drippings from the Meat
Salt