Salad Portuguese
This beauty of a salad will conclude week one meal plan. (There will be an initial 4 week plan) For everybody not yet interested in a bit of a healthier lifestyle, I suggest you try this salad anyway. Healthier and lighter food in my case does certainly not mean tasteless and boring. As is the case with so many other lifestyle food suggestions out there) Now, I understand that sardines are not everybody's favorite seafood, but as usual, feel free to replace them with the seafood of your preference, such as shrimp, lobster, sole, salmon, clams, mussels, scallops, crab meat, etc. Lighter, Healthier Comfort Food meal plan. I feel much better, sleep much better and on top of all the benefits of living a bit more on the sensible side of life, I eat as much as I want. (Except on the two days of the week which allow me a dinner of 
anything I crave, although in much smaller portions).
Procedure:
Dress fries salad with mustard/honey vinaigrette, then dress cooked potato wedges, grape tomatoes, sliced onions and stuffed olives SEPARATELY in mustard/honey vinaigrette.
Top Fries with sardines in tomato sauce, (PLEASE use a top notch product), sprinkle with freshly ground black pepper.
Drizzle with remaining tomato sauce, top with potatoes, grape tomatoes, onions and olives, sprinkle with fresh chervil or Italian parsley.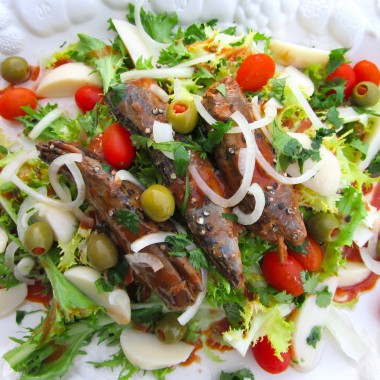 Servings:
Prep Time:
Total Time:

Related Categories: Appetizers,
Ingredients:
To see all Pictures, Recipes and Links, go to www.ChefsOpinion.org